Meet Dr. Angie Dower
As a student, I had a lot of pain in my upper back on the right side…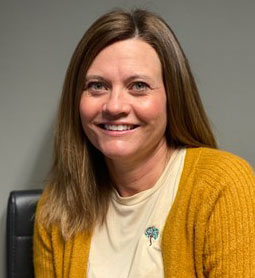 I was studying to be a teacher while I attended the University of Calgary and hours of desk work were beginning to take a toll on my back. I tried the usual routes of anti-inflammatories and physiotherapy but only managed to get temporary relief. A friend of mine suggested that I see a chiropractor but to be honest- I was scared. I had never been to a chiropractic office and I had these terrifying and barbaric ideas of what happened in one.
The curiosity (and the discomfort) finally got the better of me and I went in for an assessment. I was blown away by how pleasant and professional the office was. But more importantly, my back pain was relieved and the treatment didn't hurt at all! I was impressed!
That very day, my life shifted course.
It was like a light-bulb moment for me as I went to the University to research what I would need to do to get into a chiropractic college. I immediately switched into a science faculty and proceeded full-steam ahead to get the pre-requisites I needed in order to get accepted into chiropractic college. I was thrilled to learn that I was accepted into the Canadian Memorial Chiropractic College in Toronto, Ontario.
Not only did I have a great four years in Toronto academically, but I also met Gerard who is now the greatest love of my life! I brought him back to Alberta where we decided to plant our roots and develop our family and chiropractic practice together.
I love meeting new people!
Being a chiropractor allows me to interact with interesting people all day and allows me to help them feel better! What could be better than that? I especially love seeing families and children come into the office. When I treat a child for back pain and headaches, there is no placebo effect and it makes what I do so much more exciting when they improve. I've always wanted our office to be a relaxing and inviting environment and we've tried to achieve that with the colors and music we've chosen as well as naming each treatment room after a tree. Our friendly staff helps keep things running smoothly too. It really is a team approach.
When I'm not at the office…
When I am not at the office, you can find me at home searching for new recipes, trying to learn Spanish, puttering in the yard, or going for long walks in the coulees.
We have 2 beautiful daughters, Emily and Julia and enjoy spending time watching our youngest compete in sports, especially basketball.
I personally like to stay fit by working out regularly with fitness classes, weights, yoga, walking, biking, golf and most recently pickleball. We love to travel, and I really hope to expand our travel circumference in the upcoming years. I also have an interest in vitamins and anti-aging techniques. I like to get a chiropractic adjustment to stay healthy and well about every week.
Enough about me! I would like to know how we can help you meet your health goals and feel great with today's safe and natural chiropractic care. Contact Chiropractic Central today so we can help you take your first step towards better health and well-being!
---
Dr. Angie Dower | (403) 329-0922